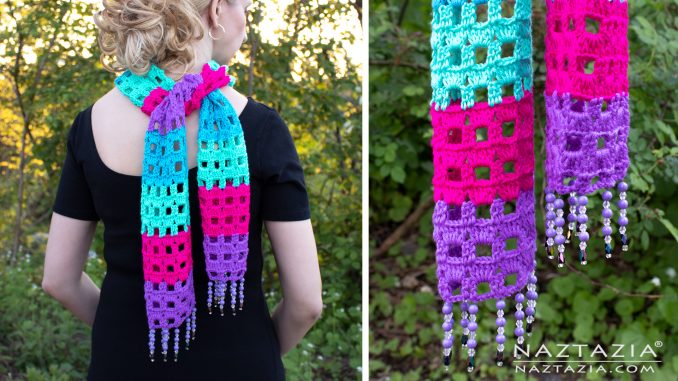 I love lightweight scarves. These work great for any time of year, but especially in hot weather. The delicate look of this scarf is nice for a prom, wedding, cruise, or a summer party and get together.
And did you notice the beaded fringe? It's pretty simple to add beaded fringe to any scarf. You can make the fringe longer or shorter. You can use any size beads too (well within reason, of course). Beads add a bit of sparkle to this scarf, plus makes it that much more dressy looking.
I love color. So for this scarf I used 4 jewel tone color skeins of yarn. It's definitely a bold look and certainly adds some pizzazz to a little black dress.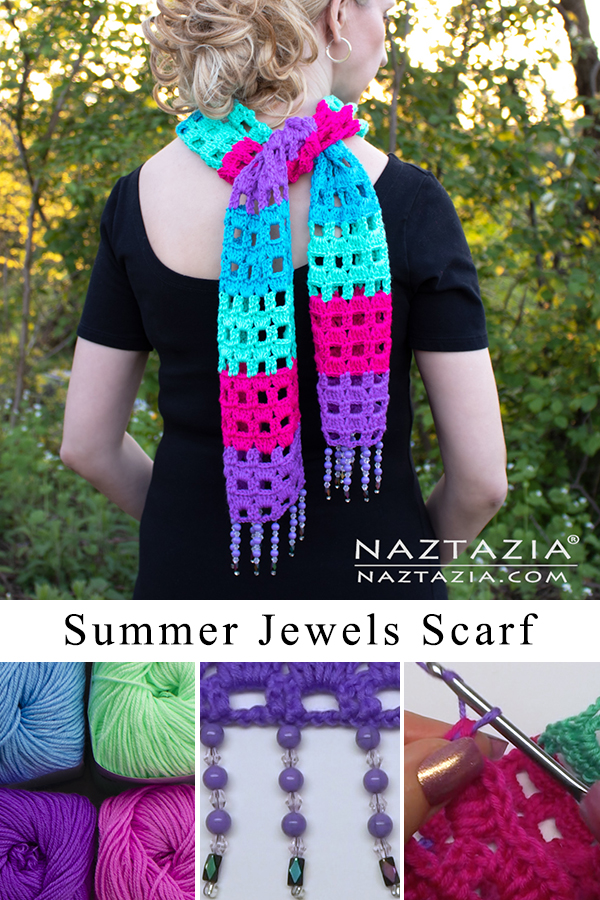 Supplies
Time needed: 3 hours.
Here are some steps to get this project started!
325 yards DK weight yarn.

I'm using Kristin Omdahl's Be So Baby yarn, which you can find here, in the colors Diva, Splash, Turquoise, and Violet. It is a 100% milk yarn, made with a bio synthetic process. Basically they take milk proteins and convert it into fiber. By the way, they can use milk that would be normally thrown away because it is a day or so past the expiration date, so it is a good way to recycle or upcycle. I cannot even begin to tell you how incredibly soft it is. I always though bamboo yarn was one of the softest yarn types on the planet. This sure beats that! Even though it is soft and drapes beautiful, it is rather sturdy. I cannot break this yarn by hand whatsoever.

Crochet hook – US size G.

I'm using a G size crochet hook. Have you ever noticed some brands say a size G is a 4 mm hook, while others say G is a 4.25 mm? One of the mysteries of the universe I suppose.

Scissors.

Always need a good pair of scissors for weaving in the ends.

Sewing Thread.

Whatever color yarn you use on both ends of your scarf, try to find a sewing thread that matches it. This is what we'll use to sew on the beaded fringe.

Beads!

Pretty much any size or type or color of bead will work. For my sample I used the following beads:

48 purple 7 mm round beads beads
48 clear 5 mm faceted beads
16 black AB (Aurora Borealis) 5 mm tube beads
16 silver-lined 6/0 "E" beads

Each dangling beaded fringe contained 1 purple, 1 clear, 1 purple, 1 clear, 1 purple, 1 clear, 1 black AB, and 1 E bead as the anchor bead.
Where to Buy
If you are looking for the Be So Baby 100% milk yarn, you can find it here on Kristin's website.
Please note I get a commission from any purchases you make using the links below.
Ravelry
If you are on Ravelry, please add this pattern to your Ravelry Queue! While there, you can see photos from other crocheters who made this pattern.
Ravelry Queue for Summer Jewels Scarf
Written Pattern
First, click on the below link. Next, the written pattern will download into your phone, tablet, or computer. It is in a PDF format. Finally, access your download folder and click on the file to open it.
Summer Jewels Scarf Pattern
Video
Click the play button to watch the video below. And if you like this, be sure to subscribe to my channel to get notified of new videos!
If you like this, you might like…