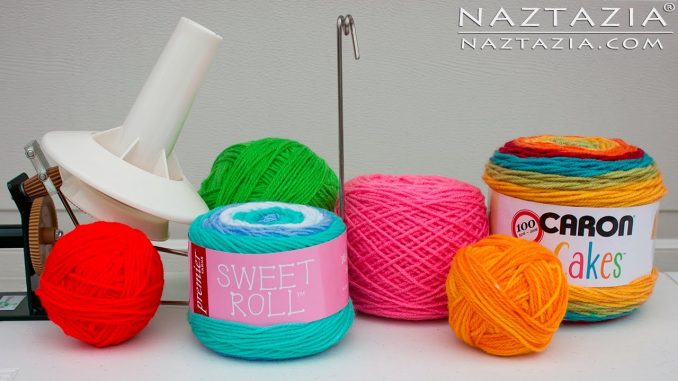 Want to see different ways I manage my yarn? In this video I show all of the different types of yarn packaging plus how to easily store all of it. You'll learn about a yarn skein, ball, donut, cake, cone, hank and more. Plus i'll show how to wind a center-pull ball to make the yarn easier to deal with when knitting or crocheting
Be sure to pin the following image to your Pinterest board! Then continue reading below.
Pinterest
Here's a nice image to pin on your Pinterest boards.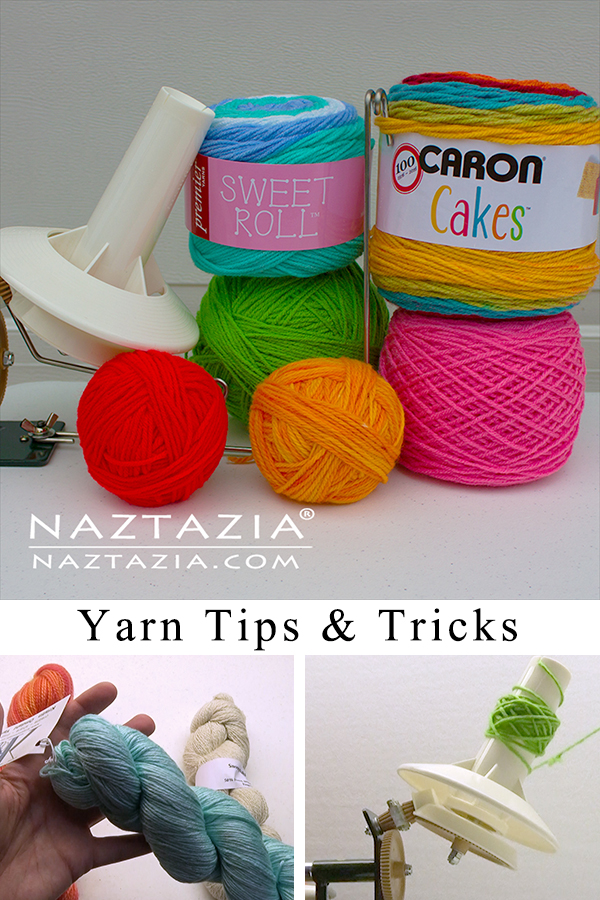 Supplies
My Favorite Supplies for Yarn
Yarn winder.

I really like a yarn winder. They wind yarn very neatly and compact. They also wind them very consistently. Plus the finished yarn forms into a cake, so it is flat on the bottom. This makes storage very easy. And they produce a center-pull ball. This prevents tangling when knitting and crocheting.

These come in two main types. There is a manual yarn winder and an electric one. The manual one comes in several sizes as well. With the manual one, you have to turn the handle yourself to wind the yarn. With the electric one, the machine automatically winds it for you.

Yarn bag or a yarn drum.

These bags are wonderful if you need to transport your yarn. Sometimes I knit and crochet at a soccer game. Or at a doctor's office. Or while waiting for my daughter Sarah to get out of band practice. They easily hold at least one skein of yarn, depending upon what size you get. The yarn comes out of the smooth grommet at the top. Nice and neat!

Storage bins and bags.

I have a husband, two children and two dogs. So together we produce a lot of dust, hair, dirt, dander and all sorts of stuff. Because of this, I can't easily have my yarn stored out in the open. Although one of these days I would love to do one of those storage cube shelves that contain all sorts of pretty color yarn. Until that time, I store my yarn in either plastic bins or large bags. I do favor the Ziploc Big Bags, which are a nice heavy plastic that protects the yarn from moisture and other environmental issues.
Where to Buy
Please note I get a commission from any purchases you make using the links below.
Video
Click the play button to watch the video below. And if you like this, be sure to subscribe to my channel to get notified of new videos!