Here's a nice flower with petals made with the Tunisian simple stitch. You do not need any special Tunisian or afghan hook – your regular crochet hook will work just fine.
You can adjust the size of the flower by using a different weight thread or yarn. The sample flowers use DK weight yarn; however, you can use a worsted weight for a larger flower, and a bulky weight for an even larger flower.
Just because the word simple is in the title – it's not necessary an extremely easy flower or one for beginners. Its name comes from the Tunisian Simple Stitch – or TSS – which is used to create the petals.
Be sure to pin the following image to your Pinterest board! Then continue reading below.
Pinterest
Here's a nice image to pin on your Pinterest boards.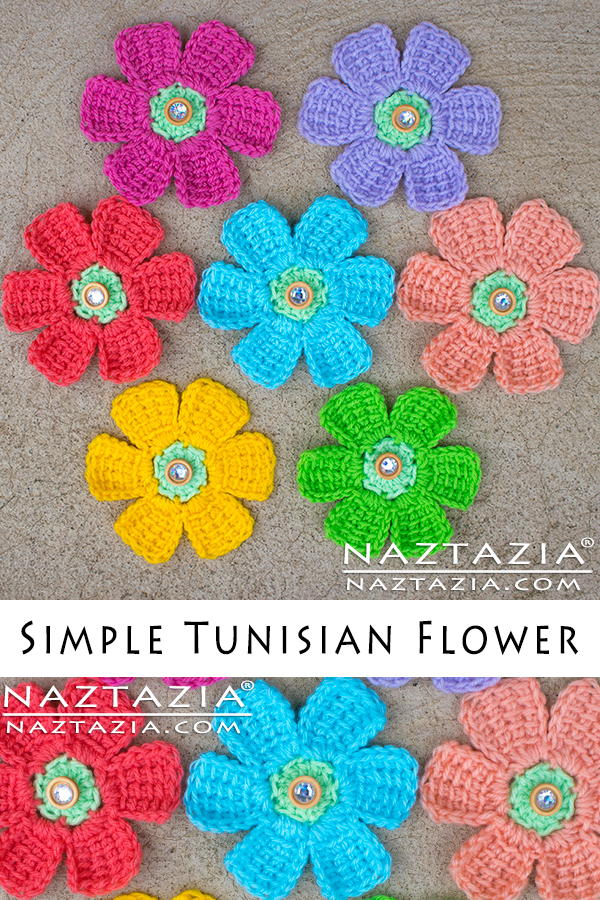 Ravelry
If you are on Ravelry, please add this pattern to your Ravelry Queue! While there, you can see photos from other crocheters who made this pattern.
Ravelry Queue for Simple Tunisian Flower
Written Pattern
First, click on the below link. Next, the written pattern will download into your phone, tablet, or computer. It is in a PDF format. Finally, access your download folder and click on the file to open it.
Simple Tunisian Flower Pattern
Video
Click the play button to watch the video below. And if you like this, be sure to subscribe to my channel to get notified of new videos!