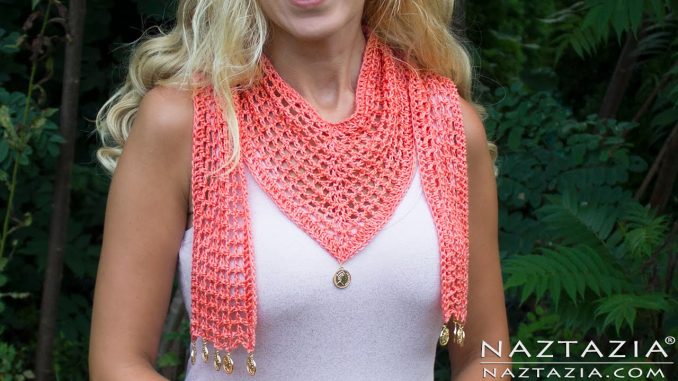 If you are looking for a scarf that is part triangle, and part straight, then this crochet V scarf pattern is for you! This has the lightweight feel of a straight scarf, with the fancy front part like a triangle scarf – but without the bulk around the neck.
I'm using Kristin Omdahl's Be So Sporty yarn. A portion of the proceeds from the sale of her products goes towards Project Kristin Cares, which helps victims of domestic violence. Would you like 20% off everything in Kristin's store? Use the discount code: NAZTAZIA20 during checkout at Kristin's website.
Ravelry
If you are on Ravelry, please add this pattern to your Ravelry Queue! While there, you can see photos from other crocheters who made this pattern.
Written Pattern
First, click on the below link. Next, the written pattern will download into your phone, tablet, or computer. It is in a PDF format. Finally, access your download folder and click on the file to open it.
The V Scarf Pattern
Video
Click the play button to watch the video below. And if you like this, be sure to subscribe to my channel to get notified of new videos!